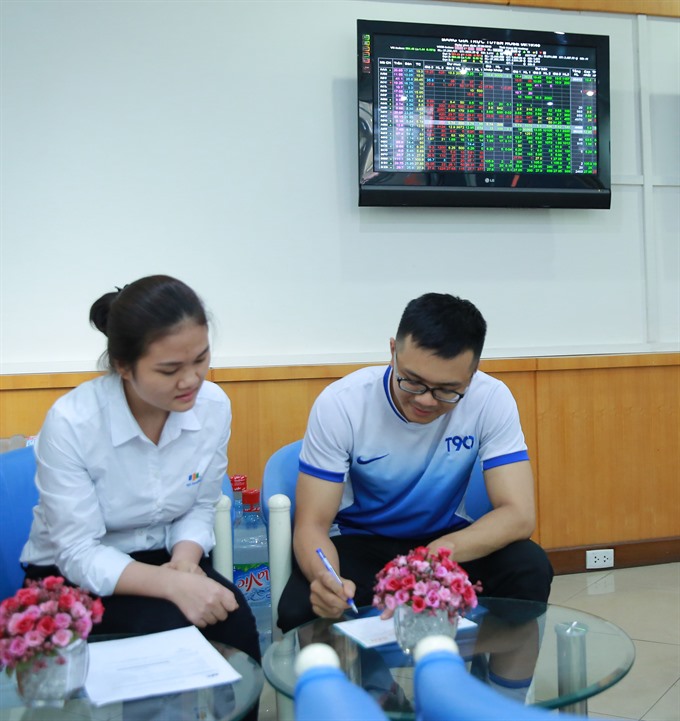 Investors at FPT Securities Company (FPTS) in Hàn Thuyên Street in Hà Nội. — VNS Photo Trương Vị
Viet Nam News
HÀ NỘI — Vietnamese shares suffered one of their sharpest drops ever on Thursday after Wall Street's worst losses in eight months triggered a surge of global selling that hit markets in Asia, too.
The benchmark VN Index plunged 4.84 per cent or 48.07 points to close at 945.89, marking the worst decline on the benchmark index since early July.
The southern market index dropped 0.22 per cent on Wednesday.
The HNX Index on the Hà Nội Stock Exchange plummeted 5.79 per cent or 6.59 points to end at 107.17.
The northern market index lost a total of 2.16 per cent in the previous four sessions.
Poor market sentiment resulted in a large-scale sell-off that pulled 458 stocks on the two local exchanges down while only 59 stocks made gains.
Market liquidity on Thursday increased sharply from the previous sessions, with more than 455 million shares traded on the two local exchanges, worth VNĐ9.2 trillion (US$392 million).
Large-cap stocks also sank as all 30 stocks in the VN-30 basket lost ground, including 11 stocks that hit their floor prices. The large-cap VN30 Index fell 4.79 per cent to end at 920.02 points.
US stocks slid Thursday. Major indices in the US stock market, including Dow Jones, S&P 500 and Nasdaq, respectively fell 3.15 per cent, 3.29 per cent and 4.08 per cent. It was the worst day for the indices since February.
Bảo Việt Securities Company (BVSC) said in its daily report that as "the US economy is in the late stage of the business cycle, it is running increasing risks. As stocks slid globally, a drop was inevitable for the VN-Index today."
Local shares moved in a negative direction after global markets were hit by a massive sell-off in the US stock market on fears of escalating US-China trade tensions and further US rate hikes, according to Nguyễn Xuân Bình, a senior analyst at BVSC.
All groups of stocks slipped on Thursday, but oil-gas stocks experienced the sharpest decline with a loss of 6.69 per cent. Large-cap oil-gas stocks such as PetroVietnam Gas JSC (GAS), PetroVietnam Technical Services Corporation (PVS) and PetroVietnam Drilling & Well Services Corporation (PVD) all hit their floor prices.
Bank and real-estate stocks subsequently plunged by 6.49 per cent and 3.82 per cent.
According to BVSC, after the slump on Thursday, a number of stocks fell to attractive price ranges. In the next few days, the market may recover thanks to bottom-fishing cash flows. However, this could be a technical recovery after a tumble.
The UP-Index on the Unlisted Public Company Market (UPCoM) lost 3.31 per cent to finish at 52.04 points. — VNS
Nguồn: vietnamnews.vn