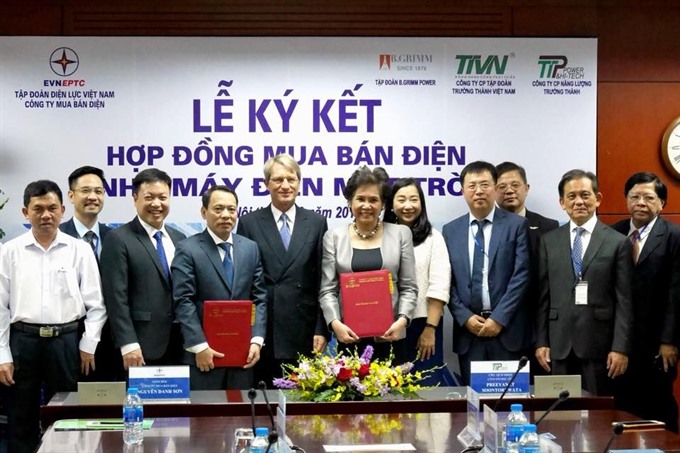 Representatives of BGRIM and EVN sign the agreement of electricity supply. — Photo nationmultimedia.com
Viet Nam News
BANGKOK — B Grimm Power (BGRIM) has clinched an agreement to supply electricity from its solar photovoltaic (PV) farm in Phú Yên Province, Việt Nam, to Electricity of Vietnam (EVN), the largest power company in the country.
The conclusion of the 20-year agreement on Thursday in Hà Nội, in the presence of BGRIM Chairman Harald Link, has solidified the viability of the 257 MW PV scheme in the Republic's south central coast.
"The agreement has secured the future for the Phú Yên project which will help drive our income generation and capacity equity growth," said BGRIM President Preeyanart Soontornwata.
When it starts commercial operation in June next year, Phú Yên will enhance BGRIM's 2019 revenue by 15-20 per cent and contribute to the company's target to increase it installed capacity to 3,100 MW in 2022.
The sales of electricity to EVN is at 9.35 US cents per KWh for 20 years with the commercial operation date (COD) set on June 30, 2019.
The ground-mounted PV solar farm in Phú Yên is one of the larger systems of its kind in the Socialist Republic and its output will be fed to EVN's national grid.
SET-listed BGRIM, through subsidiary B Grimm Renewable Power 2 Co, earlier this year acquired an 80 per cent stake in Phú Yên TTP Joint Stock Company.
BGRIM is actively pursuing power ventures in Việt Nam with current combined generation equity at 677 MW.
Phú Yên is one of the large scale projects approved by Ministry of Industry and Trade of Việt Nam in line with the republic's policy to promote environmentally-friendly energy over the next two decades.
At present, BGRIM operates a total of 33 power plants, 15 of which are of co-generation, 15 solar, two hydro-power and a diesel-fuelled, with a combined generating capacity of 2,220 MW. — THE NATION
Nguồn: vietnamnews.vn