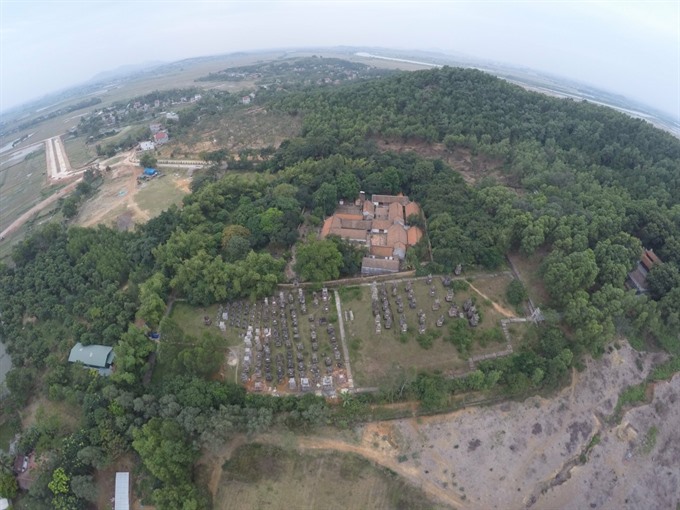 A bird view of Bổ Đà Pagoda - a tourist attraction in Việt Yên District, Bắc Giang Province. The northern province is calling for investment in tourism development. - Photo vietyen.bacgiang.gov.vn
Viet Nam News
HÀ NỘI — Ten investors have pledged to invest more than VNĐ35 trillion (US$1.52 billion) into 16 tourism development projects in the northern province of Bắc Giang.
Nguyễn Văn Linh, chairman of the provincial People's Committee, said at the Bắc Giang Tourism Investment Promotion Conference on Wednesday that the province wanted to turn tourism into a spearhead industry.
Bắc Giang wanted to become an attractive destination for cultural, spiritual tourism, eco-tourism and resort tourism, Linh said.
"Bắc Giang promises to create favourable conditions for investors in tourism development," Linh said, adding that incentives would be given to hotels from 3-star standard, restaurants, shopping centres, culture centres and tourism zones.
Deputy Minister of Culture, Sports and Tourism Lê Quang Tùng said that Bắc Giang was rich in tourism resource but lacked tourism products.
Tùng said the northern province should prioritise developing cultural and spiritual tourism products and resort tourism in combination with golf and eco-tourism for weekend getaways, meeting demands of tourists from neighbouring provinces and cities such as Hà Nội, Hải Phỏng and Quảng Ninh.
Located just 60 kilometres from Hà Nội, Bắc Giang should strive to become an important satellite destination for the capital city, Tùng said, adding that the province should enhance co-operation in tourism with Bắc Ninh, Thái Nguyên, Hải Dương and Quảng Ninh to create a tourism chain.
Bắc Giang received 1.2 million tourists in 2017, a leap of 128 per cent over 2016, bringing in tourism revenue of VNĐ760 billion. — VNS
Nguồn: vietnamnews.vn